Jumbo Corn Muffins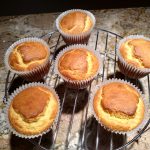 This corn muffin is delicious and easily prepared.
Dry Ingredients
1 cup all purpose flour
1 cup corn flour
1/2 cup sugar
3 1/2 tsp baking powder
1 tsp salt
Wet Ingredients
1 cup milk
2/3 cup canola oil
1 egg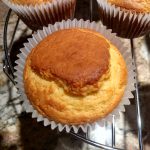 Pre-heat the oven to 400 F. Combine all of the dry ingredients in a mixing bowl and the milk, egg and oil in a separate bowl. Combine the dry ingredients and wet ingredients and mix with a spoon or whisk. Divide the mixture between 6 paper muffin cups in a jumbo muffin tin and place on the center rack in the oven. Bake for 32 minutes. Remove from the oven and allow to cool for several minutes, remove from muffin tine and allow to cool.