Hoagie Rolls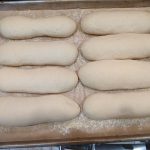 This recipe for hoagie rolls is relatively easy to make. The main change from my standard recipe is the use of Double Zero 00 Flour. This flour is widely used in pizza dough and adds another level of flavor and texture to the rolls.
1 cup bread flour
1 tbsp wheat gluten
1 tbsp whey protein
1 tbsp diastatic malt
1/2 tsp active dry yeast
1 tbsp whole milk
1 cup water @120F
Combine dry ingredients in the stand mixed bowl, add the milk/water mixture and whisk briefly to combine. Cover with plastic wrap and let stand for 3 hours. I normally put it in the oven with the light on, set the timer and enjoy a coffee or expresso. The mixture should become bubbly and have a pleasant smell of fermentation and alcohol. If not, the yeast was not active. This could be due to old yeast or water/milk mixture not warm enough. I keep my active dry yeast in a sealed jar in the refrigerator and have no issues for 2 years or more. During this 3 hour wait period, I normally measure out and combine the remaining dry ingredients in a bowl, cover and put off to the side. At the end of the 3 hour fermentation time, dump in the remaining ingredients, place the bowl on the stand mixer with a bread hook attachment and mix for 12 minutes.
1 cup bread flour
1 cup double zero 00 flour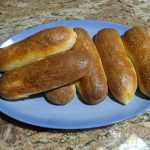 1/2 tsp table salt
1/2 tsp sugar
1/2 tsp active dry yeast
1 tbsp extra virgin olive oil
During this mix, the dough should form a ball and pull away from the sides of the bowl. If the dough appears too dry, add water in 1/2 tsp increments. If the dough appears too sticky, add flour in 1/2 tsp increments. At the end of the mix time, remove the ball of dough, lightly oil the bowl and return the dough. Cover with plastic wrap and let sit for 15 – 30 minutes until the dough ball has doubled in size.
Remove the dough, pound down with your hands and divide into 8 pieces of roughly equal size. Hand roll each one to astrip of approximately 6-7 inches and place on a cookie sheet lined with parchment paper about 3 inches apart. Loosely cover with a cotton towel and place in an unheated oven for 3-4 hours. During this time, the dough will rise and plump up (see picture above).
Remove from the oven, preheat to 450F. Place the tray in the oven on the bottom shelf and bake for 21 minutes.