Boring But Heavenly Bread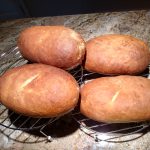 This is another quick and easy recipe for some boring but heavenly bread. I only say boring because there are no poppy, sesame, caraway or any other type of 'seed coating' on the outside. This is one of my standard recipes optimized for the least amount of actual preparation time. (Not that I am lazy, just have alot to do). Ingredients include bread flour,
wheat gluten
,
malt
,
active dry yeast
, salt and water. I use a stand mixer with a dough hook to prepare the dough and it does the extra kneading that is usually necessary.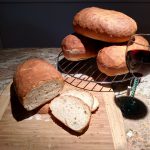 To Start:
2 cups bread flour
2 tsp active dry yeast
2 tbsp wheat gluten
2 tbsp diastatic malt
2 cups water at 118-120F
Add all dry ingredients to the mixing bowl and whisk a few seconds to mix evenly. Add the warm water and whisk for a few seconds to make a paste. Cover with plastic wrap and place in the oven with just the oven light on. Let the mixture stand for 2 hours. If the yeast is good, you should have a bubbly mixture at the end of this time.
To Continue:
4 cups bread flour
2 tsp active dry yeast
1 tsp salt
Add the additional flour, yeast and salt and start the mixer at just above the lowest speed. As the mixing progresses, you may have to knock down some of the dry mixture that builds up along the sides. I normally set a timer for a total of 15 minutes. As the mixing continues, a ball of dough should begin to form. You may have to push down the dough as it climbs up the sides. This is when you may need to add a little bit more bread flour in 1/2 tsp increments if becomes too sticky.
After the 15 minutes have elapsed, remove the dough ball, lightly oil the sides of the mixer bowl, cover with plastic wrap and place in the oven with just the oven light on. The dough ball should double in size in about 15-30 minutes. During this time, I normally prepare two cookie pans with parchment paper lightly dusted with corn meal. Remove the dough from the mixer bowl, cut into 4 pieces of more or less equal size, and shape each into a baguette, a loaf or whatever you are in the mood for. Place each on the cookie pans (2 each), lightly dust with flour or corn meal, cover with plastic wrap and place in the over (again, with just the light on). After a 2 hour rise, remove from the oven. Preheat the oven to 450F. Place 1 tray on the bottom rack and the other tray on the middle rack. After 15 minutes, switch racks and continue for another 15 minutes. Remove from the oven, listen to the crackling and allow to stand at least 45-60 minutes. Pairs well with Sierra Trails 2013 Zinfandel.