Tilapia with Dill and Lemon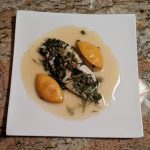 The following is my quick and simple and delicious recipe for preparing white flaky fish with lemon, dill and butter. In this case, I used a frozen tilapia filet from Costco and with the optional ingredient capers. Tilapia contains choline, which benefits your cardiovascular health; niacin, which may help with your cholesterol level; and selenium, which is good for your body's immune system. Other nutrients in tilapia include magnesium, phosphorous and 257 milligrams of potassium. Dill on the other hand, contains vitamin A and β-carotene which are natural flavonoid antioxidants. Just 100 g of dill weed sprigs provide 7718 IU or 257% of daily recommended levels of this vitamin. Vitamin-A is also required for maintaining healthy mucosa and skin and is essential for good vision.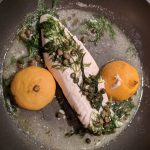 2 tbsp butter
1 tbsp capers
1 handful fresh dill
1 lemon halved
1 Tilapia filet
In a 10″ sauté pan with lid, melt the butter, add the dill and both lemon halves on either side of the pan. Place the tilapia filet on top of dill and cover. Simmer on low flame for 10-12 minutes. Turn the tilapia filet over, cover and continue simmering for another 10-12 minutes. Remove from flame, let rest for a few minutes, plate and enjoy.
To add some Extra Flavor, one of these optional items can be added:
Capers
Horse radish
Pepper