Chicken Piccata
This dish is a reconstruction of a very good chicken piccata that I sampled at a graduation party recently. My rendition is a relatively easy dish to prepare and contains a healthy dose of turmeric (see link below). For this preparation, I used a pair of food scissors to cut up the chicken It is quicker and much safer than a sharp knife. If you have any comments or questions, please feel free to respond below.
2 lbs boneless skinless chicken breast
2 tbsp olive oil
2 tbsp capers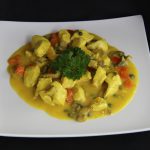 2 cans sliced button mushrooms
1/4 cup lemon juice
1 coarsely diced red pepper
2 tsp turmeric
1 small can chicken stock
1/2 cup flour, 4 tbsp butter + 1 tbsp olive oil
salt, white pepper to taste
parsley to garnish
Cut chicken breast into approximately 1″ cubes. Heat 2 tbsp olive oil in a stock pot and lightly brown chicken. In a separate saucepan, prepare a roux. Melt butter, then add 1 tbsp olive oil and flour and on a low flame heat until bubbly while stirring often. Add the capers, mushrooms, peppers, tumeric, lemon juice, roux and chicken stock to the stock pot. Heat on a medium flame stirring often until the sauce thickens. Simmer on a low flame for 30-60 minutes. Add salt and white pepper to taste. Plate and top with a sprig of parsley.