Turkey Chili Again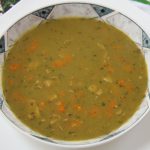 Turkey is one of those top heart healthy low-fat protein sources which is both readily available and inexpensive. One serving of poultry is associated with a 19 percent lowered risk of cardiovascular disease than one serving of red meat per day. The health benefits of black beans are numerous. Black beans contain high amounts of protein, antioxidants, folate and fiber. It is also rich in vitamins and minerals. Kidney beans are also a rich source of proteins, making them eligible for fulfilling the major daily protein requirements. Kidney beans contain certain antioxidants which have beneficial health effects. Kidney beans are rich in soluble fiber content which regulates the blood glucose absorption from the body. The health benefits of tomatoes can be attributed to their wealth of nutrients and vitamins, including an impressive amount of vitamin A, vitamin C, and vitamin K, as well as significant amounts of vitamin B6, folate, and thiamine. They are also a good source of potassium, manganese, magnesium, phosphorus, and copper. This fast and easy recipe is prepared in a 6 quart slow cooker set to low. Start in the morning and enjoy for dinner.
2 lbs lean ground turkey
1 can 14.5oz tomato sauce
1 can 14.5oz diced tomatoes
1 can 15.5oz black beans
1 can 15.5oz red kidney beans
2 large jalopeno peppers diced
1 tbsp chili powder
1 tbsp dried cilantro flakes
1/2 tbsp paprika
1/2 tbsp garlic powder
1 tsp cumin powder
1 tsp salt
Add all of the above to the slow cooker pot, cover and set to low. Gently mix and combine the ingredients with a spoon for 1 minute or less. Cover and continue cooking on low for 6 to 8 hours. Serve in a bowl topped with your favorite grated cheddar cheese (and a glass of red wine).
To add some HEAT, these optional items can be added:
Franks Red Hot Sauce
Red Chili Pepper Flakes
Ground Black Pepper