Baked Pork Loin Chops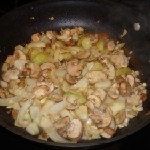 This is a good example of a recipe I made up on the fly (as are most, if not all, of my recipes). Walking through the Foodtown which is about 5 minutes away, I noticed the mushrooms. After a quick freshness check (very important at all times), I grabbed a nice looking 8oz package of slice baby bellas (also known as crimini). Mushrooms, for a number of reasons, are particularly good for you. I was planning on some type of chicken dish, but today the pork section caught my eye and I picked up a couple of 1+ lb packages of boneless center cut pork loin chops. Normally, I would pound these down with a really big mallet BUT today I didn't have the time, so I used them as they were, about 3/4 in thick. On any given day, I always have a good supply of onions, garlic cloves (peeled of course) and every imaginable form of canned tomato. That was the start of the recipe.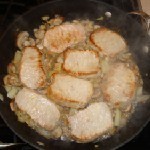 2.3 lbs Boneless Center Cut Pork Loin Chops (8 pcs)
2 tbsp olive oil
1 medium onion coarsely chopped
8oz sliced baby bella mushrooms
12 cloves garlic
1/4 tsp white pepper
2 14.5 oz cans stewed tomatoes1 tbsp paprika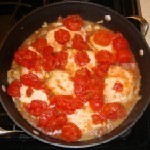 1/2 tbsp basil
totaste salt
totaste pepper
As always, I try to minimize the number of pans/pots/etc I use when cooking. Fortunately, I have a few oven safe cooking thingys that I can use both on the stove top and in the oven.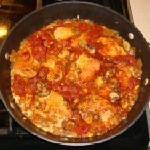 To start, heat a pan with the olive oil to a reasonable temperature (sizzles when you add a small drop of water). Add half (4 pcs) of the pork on medium to medium-high heat. After about 2 minutes add the remainder of the pork. Brown on both sides and remove all to a side dish. Add onions, mushrooms and garlic and continue with medium heat until onions are translucent. Add pork chops and any liquid back into pan. Add stewed tomatoes, basil, paprika, white pepper, salt and pepper spread over the top. Cover and place in preheated oven at 325F degrees. Bake 1 1/4 hours, remove cover, raise temperature to 350F and bake another 15-20 minutes. Remove from oven, cover and let sit for about 10 minutes. Serves 4.