Red Lentil Tomato Soup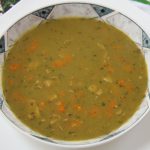 Lentils are not only low in saturated fat, which can increase your risk of heart disease, it also provides blood cholesterol–lowering soluble fiber. And it's much cheaper per pound than animal protein. Lentils are one of the most protein-packed plant-based foods options, packing a total 18 grams protein per cup. Lentils are a rich source (20% or more of the Daily Value, DV) of numerous essential nutrients, including folate (120% DV), thiamin (76% DV), pantothenic acid (43% DV), vitamin B6 (42% DV), phosphorus (40% DV), iron (50% DV), and zinc (35%). Although all lentils are quick-cooking, the red ones are the speediest. They are perfect in soups because they fall apart, to give you a purée-like consistency without having to dirty a blender. Black, green, and brown lentils, meanwhile, tend to hold their shape. Below is my take on a red lentil tomato soup easily prepared in a slow cooker.
1 1/2 cups dry Red Lentils
1 48oz can chicken stock
1 14.5oz can diced tomatoes
2 tsp dried basil
2 tsp dried cilantro
2 tsp onion powder
2 tsp garlic powder
1/2 tsp ground bay
1/2 tsp ground celery seed
1/4 tsp ground black pepper
Add all of the above to the slow cooker pot, cover and set to low. Gently mix and combine the ingredients with a spoon for 1 minute or less. Cover and continue cooking on low for 6 to 8 hours. Serve in a bowl topped with sour cream (and a glass of red wine).
To add some HEAT, these optional items can be added:
Franks Red Hot Sauce
Red Chili Pepper Flakes
Ground Black Pepper