Sweet Corn Bread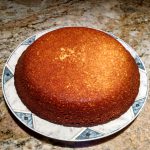 This corn bread is delicious and easily prepared with corn meal and flour and other simple ingredients.
1 cup all purpose flour
1 cup medium grind corn meal
2/3 cup sugar
3 1/2 tsp baking powder
1 tsp salt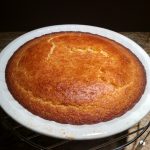 1 cup milk
2/3 cup canola oil
1 egg
Pre-heat the oven to 400 F. Combine all of the dry ingredients in a mixing bowl and the milk, egg and oil in a separate bowl. Combine the dry ingredients and wet ingredients and mix with a spoon or whisk. Pour the mixture into a 9″ pie plate and place on the center rack in the oven. Bake for 30 minutes. Remove from the oven and allow to cool for 30 minutes. Turn over on a flat plate. Con bread should fall onto plate.